Testimonials
When choosing a real estate professional, get to know their history!
Below, you'll find information that will help you get to know me better - from awards and credentials I've achieved, to references from past clients.
I consider the satisfaction of my clients to be my greatest achievement, and take pride in my high volume of repeat business and referrals.
Call me today - I'd love to add you to this growing list!
Marilyn's experience
Dave came highly recommended to me as a realtor, which already says a lot!

From the first time we met, Dave made me feel comfortable and confident in the process of buying my first house. I appreciated Dave's honesty, respect and encouragement towards me as his client. Dave has extensive knowledge and expertise when it comes to property value and house renovations, and never shied away from giving his honest opinion on the pros and cons of houses. Dave has genuine integrity and I truly believe that integrity is more important to him than a sale. Dave has a calm, level-headed approach to the home buying process and reminded me often that we would find the perfect home for me and we did just that!
Hiring Dave as my realtor was one of the best decisions I could have made in my quest to find a home.

Marilyn
Becky's Experience
When it came time to find our dream home we had little knowledge & lots of questions. Both my husband & I had very different wish lists and we had serious doubts we'd find a house we would both be happy with. Thank goodness for Dave Kramer, the house whisperer! He was very patient with us, listened to us, and made us feel at ease, and you guessed it he found us just the right house.

Becky B
Kylee's experience
Dave Kramer was a joy to work with. I had never worked with a realtor before. He explained how everything worked right from the beginning and was very honest and patient with me. He took the time to thoroughly check out every house for us. I put offers on three different houses and he always put our needs above everything else. He genuinely cared about our well-being throughout the process. I have already recommended him to a friend because we enjoyed working with him so much. Thankyou, Dave, for helping me find my first house!
Alex's experience
Was a pleasure working with Dave Kramer. I plan on recommending him to anyone who needs a good honest Realtor in the future.
Alex A.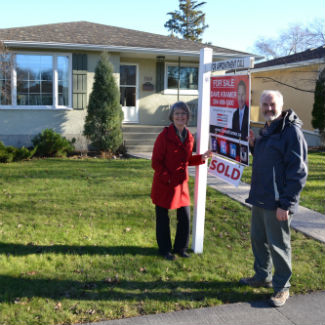 Bev and Brian's Experience
We appreciated both of you for all that you did to help us with our move! We know there were lots of things you did that we might not have even been aware of. Everything went so smoothly and the transition has been so easy and we know we owe a lot to you for that. Thanks again for everything! We were also thankful to Dave for the way he helped our son, James find his house.
Brian & Bev
Dave's Experience
I heartily recommend Dave Kramer for anyone who wants to buy or sell a home. Dave's approach mixes a strong work ethic with a casual, no pressure approach that is rooted in absolute integrity. When you start working with Dave you quickly get the impression that he truly has your best interest at heart. In time, you find that this goes beyond impression. Dave's just a guy of great character and if you make use of his services once you will never need to find another Winnipeg realtor again.
Dave
Gaylene and Brian's experience
Last fall, we listed our cottage at Victoria Beach with Dave Kramer. Dave researched the prices of cottages that were for sale that were similar to ours, met with us with the information and recommended a listing range that we could choose from. He was very professional with us and kept us informed of who was looking at the cottage and found a buyer for our cottage. Dave is knowledgeable, professional and has a friendly manner that would appeal to sellers and buyers. We have recommended Dave to other family members and friends.

Gaylene and Brian C
Rob and Sharon's Experience
Dave Kramer listed and sold our home in June, 2016. We were 100 percent satisfied with the relationship we had with Dave and with the excellent service he provided. Dave is friendly and personable, he's thoroughly professional, and he's very knowledgeable with respect to the current housing market and appropriate marketing strategies. Dave undertakes his responsibilities with integrity and commitment. We appreciated the way Dave guided us through the process and were totally satisfied with the outcome. We recommend Dave without reservation.
Rob & Sharon
Scott & Suzanne's experience
Dave was recommended to us by a friend in Trenton, Ontario who had used him several years before. And we are glad we followed the recommendation. Being in the military we had 5 days to find and buy a house. Dave understood the challenges and worked extremely hard to show us homes with our requirements. As first time home buyers, we found Dave was very helpful with all aspects of purchasing a home (IE lawyer, home insp.) and with dealing with our inexperienced loan manager. His professional and personable attitude made a stressful week that much easier to deal with. We would definitely recommend him to anyone and will use Dave in the future when we sell our house.
Greg & Vivian's experience
We have had the privilege of knowing Dave Kramer for many years, first through family friends, and then in the past few years, as our real estate agent. We have found in Dave someone who has integrity, and whom we can trust to help us in our decision making, whether it is buying a home, or selling. Dave listens to our needs, and patiently gives direction and advice as the showings progress. He has his pulse on what is happening in the market, and has a realistic approach when it comes to listing. Dave offers us honest feedback when asked, and is just a genuinely nice guy to work with! We have no hesitation in recommending his services to anyone seeking a professional real estate agent.
Greg and Vivian
Jeremy & Tanya's experience
We first used Dave's services 10 years ago and since then, we have recommended him countless times to friends and acquaintances. We were looking for an honest and integrous realtor and Dave delivered on that in spades. Dave is the kind of guy who listens well to your needs and won't rush you into something that's not the right fit for you and your family. While searching for our home, he always had his ear to the ground; he stayed connected and he was always researching. This gave us confidence that he knew the market better than most. Not only that, but we looked forward to our "house hunting" trips with Dave because he was a lot of fun to hang out with! He is down to earth, and personable. Dave is knowledgeable, calm, timely, patient, and made purchasing our current home a very positive experience.
Kevin & Erica's experience
We have bought and sold houses with many realtors in the past, but ever since we hired Dave, we cannot imagine using anyone else. Dave has now helped many times and every time he has continued to impress us. We have recommended his services to many friends, and they are always just as impressed as we are.
Over the years we have heard so many horror stories about realtors, but Dave has proven himself to be the opposite of every negative realtor stereotype. He is not shady, sleazy or out to make a quick buck at another's expense, but he is honest, responsible and takes great pride in his work. He has talked us out of buying many houses, even though it means more time and less money for him. If this is not the sign of an honest realtor, we're not sure what is.
Dave is a pleasure to work with. He is knowledgeable and reliable, professional and friendly, and always goes the extra mile for his clients. Having Dave as our realtor made the buying and selling of houses much less stressful than it could have been because we were able to fully rely on Dave to do what he said he would and put our interests first.